Oxygen-free pressing - an innovation not to be missed

Bucher Inertys
is an innovative and patented pressing process under inert gas developed by Bucher Vaslin.
Bucher Inertys ensures that 100% of the juice extracted has no oxidation.
With Inertys, the must components are thus preserved and undeniably add to the quality of your future wines.
Colour, true varietal character and aromatic potential as always promise pleasurable, fresh and fruity wines.
Pressing
is very important because wine quality depends on extracted juices.
The
Bucher Inertys process
offers
excellent results
on so-called aromatic varieties, such as Sauvignon Blanc, Grenache and Cabernet sauvignon for rosés… and also refines the primary aromas of varieties like Chardonnay, Chenin Blanc…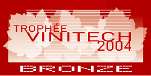 Bucher Inertys has won a Vinitech award in 2004.